Play Now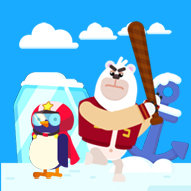 In Mr. Bouncemasters 2, you better bring your coat and warm socks because we're heading to the Arctic! The polar bear decided he needs to practice his baseball skills, and his penguin friend wants to see the world from up above, so they made a plan. Can you join this fun duo and help them have fun in the snow?
Penguins are flightless birds, but no one said they can't try to! Your objective in this game is to try to throw the penguin as far as you can with the polar bear. You can use your mouse to play this game. When the game starts, you'll see the penguin standing on an ice pillar above the polar bear. Click on the screen to make it jump down, then click again to make the bear throw it to the air. You should time your click carefully! When the penguin is in the air, you can click on the screen to make it dive down. You'll see sea lions below. Landing on them will make your character bounce forward. Try to collect as many coins as you can! You can unlock different upgrades and costumes from the in-game shop! Upgrades can help you travel further, and with costumes, you can look at your best! Good luck and have fun!
Not all penguins are interested in flying. Some like to run a restaurant, just like the one in our game, Penguin Diner. Can you help this hardworking penguin to earn enough money?
Developer
kiz10 developed Mr. Bouncemasters 2.
Release Date
October 28, 2020
Features
Colorful 2D graphics
Cute characters
Intuitive controls
Entertaining and addictive gameplay
Different upgrades to purchase
various costume options to unlock
Controls
You can use your mouse to play this game.