Noob vs Pro vs Hacker vs God
Play Now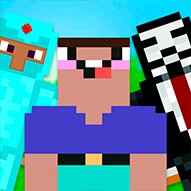 Get together with your friends and take God by your side to overcome your enemy in Noob vs Pro vs Hacker vs God! You have worked so hard to find your magical blue apple, but Hacker came and stole it. Now, make good plans to get back your apple.
This is a game of revenge, and you are taking revenge on Hacker who stole your magic blue apple. You have your friend Pro by your side, and you can always ask God for some help. But turns out God has some demands from you. Only if you finish his wish list you will have your wish granted. You need to play many mini-games to complete God's demands like bringing down his enemy. At the end, when everything is complete, you can get back your apple and watch Hacker being punished. Are you ready to go on this huge adventure?
If you enjoyed this adventure game, you should also check out Noob Vs 1000 Zombies! to see another adventure with the famous duo Noob and Pro!
Developer
Noob vs Pro Team developed Noob vs Pro vs Hacker vs God.
Release Date
September 15, 2022
Features
• 2D pixelated graphics
• Many mini-games within the plot
• Fun in-game dialogues to follow
• Easy controls
Controls
You can use the WASD keys or the arrow keys to move. Shoot your weapon or jump by clicking left according to what the level requires.