Play Now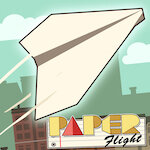 In Paper Flight, we hope your throwing arm is strong because this paper plane needs to go to places. Simple and entertaining, paper planes could keep you entertained for hours. The one in this game is sturdier than its real-life counterparts, so you better be ready to take off!
Folding paper to make a plane is a genius idea. But lacking any motors, these fun toys need humans to fly. Your objective in this game is to throw such a plane and try to visit each location by flying as far as you can. You don't have to be a pilot to fly this plane! You can play this game with your mouse. To start, click on the play button on the main menu. On the next screen, you'll see 8 different upgrade options. In the beginning, you won't have enough coins to get any of them. Click on the play button once again. Click and drag your plane and throw it to make it fly. You can click and hold on the screen to increase your altitude, but that uses your fuel. Collect blue stars for coins. Collecting pink cranes and yellow stars boost your speed. Good luck and happy flying.
If you enjoyed playing this game, then be sure to check our other game Paper Dash too. Have fun!
Developer
kiz10 developed Paper Flight
Release Date
March21, 2019
Features
Colorful 2D graphics
8 different upgrades
Can customize your paper plane
Entertaining gameplay
Intuitive controls
4 different locations to visit
Controls
Use your mouse to play this game.