Play Now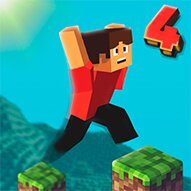 Parkour Block 4 is here to be the biggest challenge you will ever face against lava. Stable lava, rising lava, the thought of lava; any kind of lava is included. Taking it as a wise life lesson or using it to improve your parkour skills is completely up to you. Just get ready for a hard time.
The test ahead of you will not only make you question your abilities but also play with your patience. So we recommend deep breaths and small breaks between tries. Also, there will not be a treasure chest waiting for you at the end; just sheer joy of achievement. If you are fine with the outcomes, let's dive in! There are sixty levels of hardship and four game modes ahead of you. The Start button takes you to the first level of the classical mode. The Speedrun Mode merges all levels and counts seconds while you try to break a new record. The Hardcore Mode also merges all levels, but it also makes you go all the way to the start when you fail. The main goal is to reach the portal in the least time without falling into lava. Do you have the skills to make it to level sixty?
If you like this deadly parkour challenge, you can check out Parkour Block 3 to try your chance at different platforms!
Developer
Poly Games developed Parkour Block 4.
Release Date
June 23, 2022
Features
Colorful 3D graphics
Fun pixel theme
Increasing challenge with each level
Different game modes
Available on mobile devices
Controls
Use "W, A, S, D" to move and the spacebar to jump.