Play Now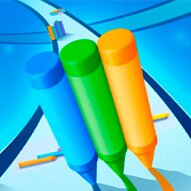 Bring color to your life in Pencil Rush! You have a dozen of colorful pencils in your hand and all you need to do is to figure out how to use them to create the best drawings out there!
In this unique game, you will be dragging a bunch of colorful pencils through a white platform. As you drag the pencils, you will see the beautiful colors being drawn. But the essence of this game is not only the colorful lines you can follow. You need to be careful not to bump into some everyday objects that fall in front of you. This will cause you some pencils and your aim is to collect as many pencils as you can until you reach the end of the platform. Make sure that you have enough coins on the go and don't miss out on the chance to use these coins to unlock new frames for the pictures you draw at the end of each level. You can also enhance the count of your pencils and strengthen the drawing force and painting accuracy. Let's see how beautiful your masterpieces will be!
If you enjoyed this fun platform game, you might want to check out Color Theory to dive deeper into the world of colors!
Developer
Gismart developed Pencil Rush.
Release Date
April 29, 2021
Features
• Colorful 3D graphics
• Many levels to unlock
• Rewarded ad available to upgrade skills
• Frames to unlock
Controls
Use the cursor to drag the pencils through the platform.