Play Now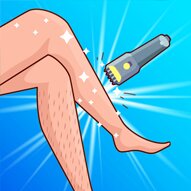 Get your razor in your hands in Perfect Wax 3D! This poor man needs waxing so bad. You can help him get his body hair waxed, but he doesn't prefer to be waxed. Because he can't take the pain, he needs to be shaved. Can you help him get this task done?
In this game, you will get the control of the razor in hand and rotate it. By rotating the razor, you will shave the unwanted body hair from the noses, arms, and legs you will be seeing on the platform. As you go on the way shaving the hair, the hair you shave will be collected in the tube on top of the razor. You will see if you have enough hair collected that the hair you get will be used for a wig for the man. He is waiting for you at the end of the road to get his new hairstyle with those body hair. So, be careful not to lose the hair you shave. If you accidentally hit the sharp obstacles on the way or get on the steaming engines, you will lose the hair you collected. Other obstacles are eyes which will cause you to restart if you hit. Now, shave this man's unwanted body hair and get him a cool wig at as many levels as you can!
If you enjoyed playing Perfect Wax 3D, you should check our playing High Shoes by clicking here.
Developer
YAD.com developed Perfect Wax 3D.
Release Date
October 11, 2021
Features
3D colorful graphics
Intuitive controls
Multiple levels to complete
Entertaining and addictive levels
Platform with obstacles
Controls
You can use the mouse of your computer to rotate the razor.