Play Now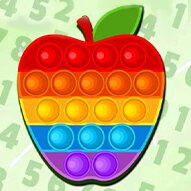 Relieve the stress of daily ruckus while improving your relationship with multiplication with Pop It! Tables! Running against the countdown while answering the questions with satisfying pops will confuse your feelings. Whether you choose to love or hate it, you will definitely get hooked on this mixture
Pop Its are a must-have nowadays. They make it easier to focus and help with anxiety and ADHD; even some schools encourage kids to keep popping up during classes. Keeping your hands busy with a simple activity is proven to increase your mind's capacity. It brings us to a question: how would it feel to solve questions written on Pop Its? This game is here to help you get an idea! You have a question on the left and a Pop It toy on the right with numbers on it. Answer the multiplications in the right order and pop the bubbles with the answers. There are forty levels of the challenge ahead of you! Each level consists of ten questions, and every wrong answer costs you twenty seconds. Can you complete all levels in the shortest time possible without making mistakes to get the highest score? Improve your math skills while relaxing with Pop It! toys!
If you like games that mix math with fun, you can check out Count Master 3D and destroy enemy castles with the right strategy!
Developer
Lof Games developed Pop It! Tables.
Release Date
March 24, 2022
Features
Colorful theme
Relaxing gameplay
Improving math skills
Available on mobile devices
Controls
You can use your mouse to play this game.