Rayman's Incrediballs Dodge
Play Now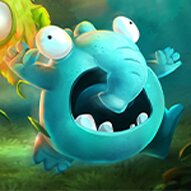 Rayman's Incrediballs Dodge is here to give you the satisfaction of winning multiplayer matches designed in different modes. From blinding fog to meteor showers, you are more than welcome to choose your challenge. Of course, the only enemy is not nature. You are supposed to fight other players from all around the world!
On every arena, you can find an in-game currency called 'Lums'. By collecting these cute, sparkly folks, you can unlock more than 30 uniquely stylized monsters to beat others in this jungle arena with! This competition of survival is mainly evolving around finishing on the central tiles as everything else falls apart. Dodge the fireballs and magic orbs to avoid losing health. You start with 3 lives but keeping them full is always the best option as something unexpected can come up at any minute. Pick up boxing gloves and push your enemies off the edges of the arena or down the holes. Watch out for falling tiles while all this chaos happens around you, and move towards the center. Every spare second is a good time to find and pick up more extra lives as there is no such thing as too many chances. Keep calm as others fall and be the last one standing!
If you enjoy this game, you can check out more strategy games by clicking here.
Developer
Ubisoft developed Rayman's Incrediballs Dodge.
Release Date
February 14, 2022
Features
Cute and detailed character design
Multiplayer experience
More than 30 characters to play with
Different modes
Controls
Use your arrow keys to move your character.