Play Now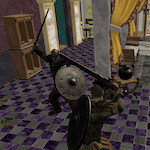 In Rome Simulator, grab your weapons and take control of a gladiator. Your enemies are lurking in the shadows of the royal palace, and only you can stop them with your fighting skills. Can you show these intruders that you'll not allow them to trespass?
As the protector of the estate, it's your job to get rid of any unwelcome visitors, especially if they're armed. With so many weapons at your disposal, it's time to show your enemies that you're unstoppable. As a proud gladiator, you won't stop fighting until you die, and your objective in this game is to kill as many enemies as you can before you die. Click on the play button on the main menu to start the game. Next, pick one of the two different locations to play in. Your first job is to look for weapons. Click on E key to equip one. As you walk around, enemies will start to spawn. Click on the screen to attack them, and click and hold the right mouse button to block their attacks. Your health and the number of enemies you've slain is located in the top left corner of the screen. Kill as many enemies as you can to earn a high score!
Be sure to check other titles in our collection of free and online action games by clicking here!
Developer
GamesToPlay.org developed Rome Simulator.
Release Date
April 3, 2019
Features
Colorful 3D graphics
Different weapons to use
Entertaining gameplay
Intuitive controls
Controls
Use the WASD keys to move around. Press the Q key to jump and the SPACE BAR to roll. Click on the screen to attack. Hold down the SHIFT button while moving to run. Press the G key to equip your weapon and the E key to pick up an item. Press the Z key to see other controls.