Play Now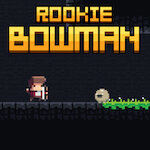 In Rookie Bowman, prove your worthiness or perish from the earth. It's important to leave behind a legacy, so your name can live forever. This is what our brave bowman is after. To achieve, he needs to prove himself worthy. Do you have the courage to follow him on this journey?
Can you feel that? This place is trouble. Our hero wants to bring meaning to his life. To stop being ordinary and be a figure who people look up to. To do that, he has to overcome the challenges that await him on this journey. Your objective is to find the ancient bow hidden inside the cave. But your quest isn't done yet. You need to deserve the bow to keep it. Clear the 3 sections of this cave and defeat the champions to keep your prize. You'll face many dangers in this den but with the help of your magical bow, your enemies will crumble before you. Shoot the creatures you see inside and use the power of your bow to get through difficult areas. Beware of lasers, spikes, and platforms that disappear from time to time. Don't forget to collect the items that can help you survive in this den and the scrolls that give tips about the game. Will you be able to reach the exit alive?
There are more challenges that await you in our collection of online action games. Enjoy!
Developer
Developed by Mapacarta.
Release Date
September, 2018.
Features
3 different sections to complete
Fun gameplay
Intuitive controls
Achievements to earn
Controls
Press AD or left/right arrow to move. Press W or up arrow to jump. Press the space bar to shoot an arrow. Use S or down arrow to teleport to your arrow. Press B to open inventory.