Play Now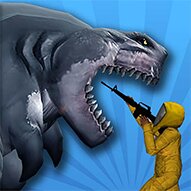 Unleash your wrath upon your torturers with Sharkosaurus Rampage! Wake up to a world where you were created as an evil lab experiment, break out of the poor excuse of a tube they imprison you in, and run at your creators to catch and devour them!
The human race created you out of curiosity, and now they keep you locked up to experiment on you further. The pain they cause you, the tiny tube they trap you in: you were never shown mercy. But today is the day the tables turn! Break the glass with the building rage within and run to the first enemy closest to you. Now open your jaws and get them inside. Everything you eat will add to the Eaten score on the top left. Destroy machines and vehicles with your razor teeth and leave your enemies helpless against your matchless power. Eat everything that fits in your mouth, activate passes and elevators to not leave anyone behind, and keep yourself safe from gunshots. Pick up objects and throw them at humans to knock them out from a distance. Collect stars to finish levels with the highest scores, complete all sixteen levels, and defeat challenging bosses!
If you like this thrilling adventure, you can check out our Action Games category to find more games like this! Have fun!
Developer
Gametornado developed Sharkosaurus Rampage.
Release Date
June 3, 2022
Features
Good 3D graphics
Interesting and exciting storyline
Easy to play
Increasing challenge
Controls
You can use your mouse to play this game.