Shaun the Sheep Alien Athletics
Play Now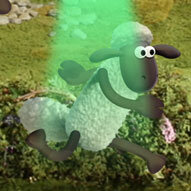 In Shaun the Sheep Alien Athletics, our character returns one more time for a thrilling adventure. When adventure comes knocking at your door, there is nothing to do but accept your fate and go out there to respond to whatever life throws at you. But when life throws aliens at you, that's a completely different matter. But we have a perfect solution for this problem. Run! You heard us right. Run! But how fast do you think you can run?
It's here. The alien invasion has begun! We know our hero loves adventures and is always looking for more, but this is a bit extreme, don't you think? He always manages to find trouble somehow or maybe trouble finds him. We don't exactly which one it is but if there's one thing we know, it is that you should run! Run like your hooves are burning. Run like the devil itself is chasing you. When you're running, two other sheep will join you. The alien is right above your head and is waiting for an opportunity to kidnap you. On the way, there are a lot of obstacles. You need to jump at the right time and don't hit one of them or you'll fall. And if you fall, well, let's not talk about that now! All you need to know is that you'll lose a sheep. If the alien manages to catch all the sheep, the game's over. Good luck!
There's another person as unlucky as Shaun when it comes to adventure. Play Adam and Eve: Zombies now by clicking here. Enjoy!
Developer
Agame developed Shaun the Sheep Alien Athletics.
Release Date
April 20, 2021
Features
Entertaining and addictive gameplay
Nice 2D graphics
Intuitive controls
Alien attack to run away from
Controls
You can use the space bar or the left mouse button to jump.