Play Now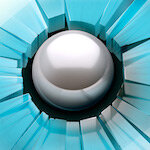 In Smash Hit, it's time for utter destruction! In a world made of glass, things tend to shatter into pieces. Get ready to throw balls at different obstacles, but don't worry about getting glass cuts! Can you pass each level, and prove that nothing can stand in your way?
Now that you're here, the air will be filled with flying glass particles soon! Your objective in this game is to complete each level by traveling through various obstacles. You can play this game with your mouse. Click on a level to start the game. When you start, you'll move forward automatically. All you have to do is to click on the screen to throw balls at obstacles to clear your way. You can check the percentage of your progress from the top of the level. The light line around that represents your health. It depletes with time, but you can replenish it by destroying objects on your way. You complete a level when you reach 100%. Be careful though! Some of the obstacles appear suddenly. Act quickly to get rid of them, as if you crash into them, you'll lose health. If you run out of your health before completing the level, you'll lose the game and have to start again. Good luck!
After you finish playing this game, why not check our collection of other fun and popular skill games? Have fun playing!
Developer
Smash Hit was created by Mediocre AB.
Release Date
February 2014
Features
Available on multiple platforms
Engaging and addictive gameplay
Colorful graphics
10 different levels
Controls
Use your left mouse button to shoot.