Play Now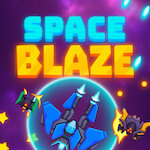 In Space Blaze, prove your courage and save yourself from the alien attack! Space is a wondrous place to behold and holds many mysteries! You, great adventurer, are willing to explore the vastness of space and uncover the mysteries! Do you think you're powerful enough to face the many challenges that await you on this journey?
Life is short and there are many places to discover. Lucky enough, you have the chance to travel to space. So, hop on your space-age aircraft, and let's fly! In this arcade game, your objective is to destroy the aliens attacking you! Obviously, these aliens are not very welcoming! So, you have to get rid of them. You have to dodge their attacks and control your spaceship to survive through this battle! Alter your course by pressing the left mouse button. You can also use the WASD keys to move around. Attack and destroy your enemies while you're moving around and collect the stars. The stars will allow you to unlock better spaceships. You'll also pick upgrades along the way that will help you defeat your enemies! Pick them up to improve your arsenal and to get a shield. Be careful and don't touch other spaceships and avoid their attacks to survive! Are you ready to shoot em up?
If you want to play more action games, be sure to check our collection of free and online action games by clicking here. Enjoy!
Developer
Developed by OrangeGames.
Release Date
May, 2018.
Features
Different spaceships to unlock
Fun and fast-paced gameplay
Intuitive controls
Nice 2D graphics
Controls
Press the left mouse button to play or use WASD keys.