Squidly Game Hide And Seek
Play Now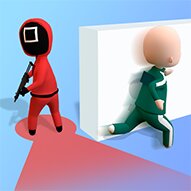 Choose your side and role in a deadly version of your favorite childhood game with Squidly Game Hide And Seek! Become a butcher or tourist, join online deathmatches with three rounds, and show your skills at hiding and revealing! Unlock new skins for your character and hunt and hide with style!
Welcome to the latest round of the world-famous survival challenge Squidly Game! The games continue with another twisted version of a famous children's game. In this round, you will be playing Hide and Seek with a group of other players. Worry not; playing on the hiding side is relatively easier than the role of the butcher, and all newcomers start in the green team. The game puts you in a large area that looks like a hospital and gives you three object options to turn into. You can be a bag, a wheelchair, a purse, or any other unsuspecting object. Choose your new shape and find the best spot to blend in. Hiding far from the entrance area can also help you stay away from the butcher's sight before the time runs out. You can collect diamonds to join the red team and do the hunting too! Good luck!
If you like this immersive action game, you can check out Squid Challenge Glass Bridge and turn back to another breath-taking round of the world-famous games!
Developer
YAD.Com developed Squidly Game Hide And Seek.
Release Date
July 1, 2022
Features
Nice 3D graphics
Easy to play
Addictive short deathmatches
Rank system
Available on mobile devices
Controls
You can use "W, A, S, D" to move.