Play Now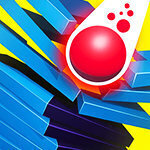 With Stack Fall 3D, get ready to challenge your timing skills! Let your jumping ball fall breaking the platforms one by one until it reaches the bottom of it. But you will be tested for your skills both on good timing and on staying focused. Because of the neon colors and destructive shapes, it is only a matter of time for you to stumble! If you believe in yourself, let the game begin!
Don't let these changeable shapes and eye-straining colors deceive you! With a little bit of persistence and correct timing, there is nothing that can stop you from completing the most challenging levels! The objective of this fun skill game is to break the stacks without hitting any obstacles and reaching the finish line. You are supposed to break only the neon colors by clicking with your mouse. If you click when you are on a black spot, you will fail. Simply click and hold to break and release to make it stop. Once you taste the relaxation of breaking the neon stacks, you may be unable to slow down. But you have to be careful. Since the shape is turning, you can encounter black obstacles. If you fail, you can restart your current level. Good luck and enjoy playing!
If you want to try another game to test your focus and timing skills with a musical adventure, then be sure to check Piano Tiles 3 by clicking here.
Developer
Robert Alsin developed Stack Fall 3D.
Release Date
April 10, 2019
Features
Neon 3D graphics
Intuitive controls
Entertaining and addictive gameplay
Several levels to complete
Controls
You can use your mouse to play this game.