Play Now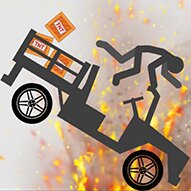 Anger, anxiety, curiosity; whatever that is you feel, Stickman Dismounting has a subject you can take it all out on. Try different forces or apply the same amount with a handstand; you are allowed to defy the laws of physics all you want here! This whole platform is a playground for what you cannot (and definitely should not) try at home!
This poor stickman standing before you wants to dismount, and he came to the right person; you! You can change the factors and send him flying with a different force to see how it affects him! Earn coins for every inch your character moves, and unlock vehicles and new tracks for him. You can get five exclusive types of scores for general damage, air time, flips, breaking bones, and breaking your vehicle. Claim your gifts from the main menu and earn extra coins regularly. From super shopping carts to bulldozers, there are twelve vehicles waiting for you, all with different mounting poses! Slide down a highway and reshape your bones in a hospital bed while getting bonus points from every bone you break! Complete quests and unlock every option for this mindless destruction!
If you like experimenting with physics in funny ways, you can check out Wheelie Bike and test your balance skills on two wheels!
Developer
PlayJolt.com developed Stickman Dismounting.
Release Date
January 10, 2019
Features
Colorful 2D graphics
12 vehicle options
Unique poses for every vehicle
18 unlockable tracks
Simple and fun gameplay
Controls
Click on the start button, hold, and release at desired power.