Stickman Fighter 3D Fists Of Rage
Play Now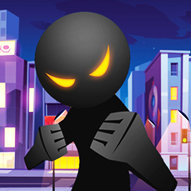 Stickman Fighter 3D: Fists of Rage is the perfect fighting game for those who love vertical action games! You need to control the stickman to get him to face the enemies. Your Stickman is very angry, so he has fire in his belly! Will you help him to kick their butt or else you give up? Show your power!
Street- fighting can be very dangerous for those who aren't as strong as the Stickman! But your big blue man is ready to fight! Select your character before the fight. He needs to put the streets in order. The game starts on the highway and goes on through the city, the hospital, the military base, and finally the port. As you proceed with the game, you will unlock different powerful characters. You have 100 levels to pass. You can use your keyboard to control your man. To use the powerful fists, press the Z key, to throw the powerful kicks, press the X key. If you press the C key, you can block any incoming attacks, and lastly, if you press the spacebar you can jump over your enemy. You can also grab stuff to hit them with, like knuckles, knives, axes, or guns. If your blue man is ready, start the game to fight!
If you want to try another game similar to this one, then be sure to check Stickman Shooter 2 by clicking here.
Developer
kiz10.com developed Stickman Fighter 3D: Fists of Rage
Release Date
August 7, 2020
Features
Colorful 3D graphics
100 levels to pass
5 different locations to play
Different characters to unlock
Controls
You can use your arrows to move the player. Z is for punching, X is for kicking, C is for blocking the attack, and Spacebar is to jump.