Play Now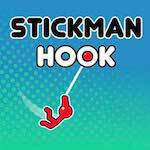 In Stickman Hook, another stickman adventure in which you will enjoy testing your timing skills, is waiting for you! Featuring endless fun levels and challenging obstacles, all you need is eye and hand coordination to succeed in this fun skill game. Launch your rope to hold the hooks and perform the most incredible jumps in the Stickman world! Get your fingers ready and start the game now!
After ensuring security along the streets, our super stickman embarks on another adventure filled with hooks, acrobatic tricks, and various obstacles. In this fun skill game, your objective is to hold on to the hooks to move forward until you reach the finish line. You can click on the screen to hold the hooks with your rope. The longer your rope is, the further you will fly. As you proceed in the game, the levels will get harder too. You will face various obstacles that prevent you from holding the hooks or make you jump without your control. You can unlock other skin options for your stickman every 10 levels. Don't forget to check your progress from your current level to the following level at the middle top of the screen. If you fail, you can restart your current level as many times as you want. Good luck and enjoy the adventure!
If you want to try another similar game to prove how fast you can get, then be sure to check Stickman Rush.
Developer
MadBox developed this game.
Release Date
October 2018
Features
2D colorful graphics
Several adventures to go on
Various skins to unlock every 10 levels
Entertaining and addictive gameplay
Controls
You can play this game with your mouse.