Play Now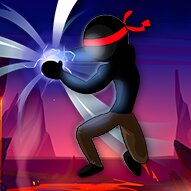 Stickman Shadow Hero needs your help to fight against the evil forces! The enemies can be made of sticks, but they are certainly powerful as much as you are. Your help won't be an ordinary one. You are not going to control this stickman, nor will you make him shoot at the others. You are gonna use the power of chemistry and create powerful potions as boosters! If you are curious about what else you are able to do, let's find it out, then!
You are about to step into a war field nothing like you have ever seen before. In this war, all sides have superpowers. Don't worry! Finn can do magic too! You can think of these battles as the practice for a bigger mission. Help Finn to improve his war abilities by using chemicals. Your objective is to complete each level by destroying other stickmen. You should always check your inventory and equip your character before the fight. As you proceed in the game, you can upgrade four stats of your character, and there are the health, attack, defense, and luck stats. Each fight you win gives you items. You should mix two of your items to create a more powerful item that can help you win the battles. You can see how many enemies you will face from the bottom of the game screen. Good luck!
Our hero appreciates you help! We have other heroes who may need your help as well. If you want to meet them in another adventure, then be sure to check Stickman Archer 2.
Developer
kiz10.com developed Stickman Shadow Hero.
Release Date
July 19, 2021
Features
2D colorful graphics
Several challenging levels to complete
Simple controls
Fun and addictive gameplay
Controls
You can use your mouse or finger to play this game.