Play Now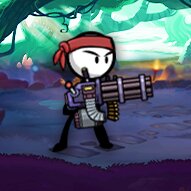 Protect your base from dangerous enemies in Stickman Shooter 3 Among Monsters. They are coming all together at you, and all you have is your weapons. But you can fight against them and try to protect the integrity of your base. Now, be prepared to use whatever weapon you have and kill all the enemies!
In this game, you are standing on top of a tank from where you shoot the enemies. Those enemies giving you a hard time, come all together in waves to destroy you. Still, you have the upper hand. You have your weapon in your hand and the two machine guns of the tank aiming at your enemies. Unfortunately, these monsters don't get killed with one shot, and you need to aim at them over and over again, one by one. So, your job here is not that easy. But don't worry, with each enemy you kill, you can collect coins. With those coins you get, you can upgrade your weapons. Upgraded weapons have better accuracy, speed of fire and reloading or more bullets. Here's another tip for you; some enemies, like the flying-brain zombie, have weapons that will attack you. When you see them, you will need to work more on them. So, get ready to kill your monstrous enemies and protect your base!
If you enjoyed playing Stickman Shooter 3 Among Monsters, you should also try playing Stickman Shooter 2.
Developer
kiz10.com developed Stickman Shooter 3 Among Monsters.
Release Date
September 7, 2021
Features
2D colorful graphics
Guns to unlock
Interesting monster enemies
Intuitive controls
Controls
You can use the mouse of your computer to aim and shoot.