Play Now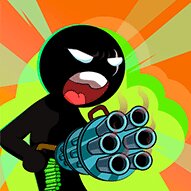 With Stickman Team Force 2, you must destroy all the enemies without a blink! Even a second matters a lot when it comes to the battlefield. Your enemies are strong but not strong as your stick squad. You can beat them down, but you should use good war strategies and act quickly. Choose your hero, upgrade their warrior stats and destroy all the livings cross your path. Let's see what you can do now!
In the middle of a desert, there is nothing to do but to fight for your life. That is what exactly is happening in this thrilling fighting game. Luckily, you and your 2 stick bros are capable of defeating everyone. Your objective is to shoot and destroy all the enemies to complete the levels. You can take control of 3 different heroes. Start with the first level and complete it by leaving no foe behind. Each kill earns you coins. You can check your scores and earnings at the end of the level. Use your earnings to upgrade your heroes' warrior stats. Even if you fail, you can get your rewards. After upgrading stats, you can turn back and finish your level! This team is already invincible! If you are ready for the fight now, then may the best team force wins!
Haven't tried the first version of this fun fighting game yet? If you want to know how did it all begin and turned into a big war, then it is time to find out in Stickman Team Force by clicking here.
Developer
kiz10.com Stickman Team Force 2.
Release Date
July 2, 2021
Features
2D colorful graphics
3 heroes to control
18 challenging levels to complete
Fun and addictive gameplay
Controls
Move with the WASD keys, Z key to attack, X key for Special, C key to change character.