Super Friday Night Squid Challenge
Play Now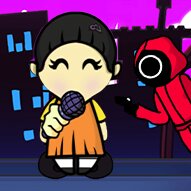 Become the champion with the help of music in Super Friday Night Squid Challenge! You had to enter a very risky program because you needed money. Now, you must win the challenges in this program to get the money and save your life! Can you keep up with the most important game of your life?
As brutal as the rest of the games in this challenge are, this game presents you with a very different kind of round in this challenge. Now, for this round of the challenge, you need to play the songs in the best way, not to get shot. When the music is playing in the background, you need to press the arrow keys in the same order that the colorful arrows are floating to the top of the screen. When the arrows hit the places that are drawn for them, press that arrow simultaneously. This way, you won't mess up the song! If you can complete playing the song before you are out of life, you will have the chance to pass to the following level. Now, let's see how successful your inner musician is and if you can be the champion to save your life!
If you enjoyed playing this interesting game to become the champion of the squid challenges, you should also check out Music Rush for similar gameplay!
Developer
kiz.10.com developed Super Friday Night Squid Challenge.
Release Date
November 04, 2021
Features
2D colorful graphics
Challenging gameplay
Intuitive controls
12 catchy songs
The excitement of squid challenges
Controls
You can use the arrow keys to match the floating arrows with the spots.