Play Now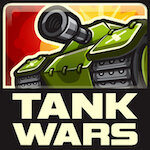 In Tank Wars, the heat of the battle will show which player is the most powerful! Jump into your tank, start the engines, and let no one come close to your base! Do you have what it takes to stop your opponents? Only the strongest can claim victory in this challenging game!
Featuring 4 different difficulty settings, players of all skill levels can enjoy the rush of the battle in this fun game. There are over 100 levels for you to complete, so you better start now! Your objective in this game is to complete each level by destroying all your enemies before they get a chance to reach your base. To move your tank around, you can use the WASD or the arrow keys. Sometimes your opponents will build walls to protect themselves. Tear those brick walls with your powerful cannon by using the SPACE BAR. You can't pass through water and should be careful when you're around the trees. Your enemies will try to sneak up on you by hiding in the woods. If you want to spice things up, you can create your own levels with the level editor! Enjoy!
Let your adrenaline rush as you find yourself in dangerous and challenging situations in the games listed under our free and online action games collection! Click here to start browsing now!
Developer
Mad Rayser Studios developed Tank Wars.
Release Date
20 January 2018
Features
Multiplayer gameplay
More than 100 levels, and the ability to create your own levels
5 different enemy types with different characteristics
4 different difficulty settings
Controls
Use your arrow or WASD keys to move. Press SPACE to shoot.