Play Now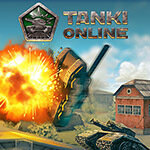 In Tanki Online, you better prepare yourself because we're going to war! Jump into your tank and head into the battlefield to show your opponents that you're the most powerful one. With its online multiplayer gameplay, action and danger never stop in this game. Are you ready to stop your enemies and become the king of the war zone?
The ground trembles as the tanks enter the battlefield. Before jumping into the heat of the war, visit the garage to check how you can improve your trusted tank. Different options including various hulls, turrets, drones, supplies, and many more are waiting for you. You can buy and apply these parts to your tank by using the in-game currency, crystals. You earn crystals as you complete and win matches. After you're done in the garage, head to the battle section, and choose a match. Each match has its own objective for you to complete to win. Crates will spawn randomly. These can aid you and your teammates when collected. Good luck, soldier!
Enemies, challenges, and levels filled with various obstacles... We have all these features in our other games. If you're ready to dive right into the action, then go and check our collection of free and online action games by clicking here!
Developer
Tanki Online was created by AlternativaPlatform.
Release Date
2009
Features
3D maps and realistic graphics
Fully customizable tank
Ranking system
Multiple game modes
Online multiplyar gameplay
Controls
Use WASD or arrow keys to move. Use ZX keys to move the turret. Use C key to center the turret. Use SPACE BAR to fire. use Delete to suicide.