Play Now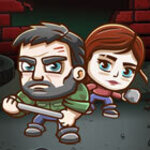 In The Last Survivors, the whole city turned into a jungle where zombies hunt for fun! As the last survivors of this terrible invasion of the undead, a father and his daughter are the last hope for humanity. You should help them escape from this big city by getting into the car and pass by 20 different spots where they will face the enemies. Now, grab one of your friends and start this dangerous journey!
The road is so long and full of traps and puzzles! You and your friend need to help these two survivors find their way with the power of teamwork! If you trust yourself enough, you can take control of both characters, or you may prefer to play this fun action game with a partner. You can control the father with your arrows and for the girl, use the WASD keys. Both characters have different features and abilities. For example, the father has a bat to beat the zombies, and he can break the cracked walls. The girl can launch stones to move the objects and break the walls, apart from being able to fit the small places. They can also hold each other on their shoulders to reach high places if it is necessary. If you are ready, start this journey and pass all 20 levels to regain your freedom!
Be sure to check our collection of free and online action games by clicking here to browse more fantastic adventure as fun as this title.
Developer
Kizi developed this game.
Release Date
March 5, 2018
Features
2D colorful graphics
Various traps and puzzles
20 challenging levels to pass
Can be played with 2 players
Controls
For the father, use the left and right arrows to move, up arrow to jump, and down arrow to attack. For daughter, WASD keys in the same way.