Play Now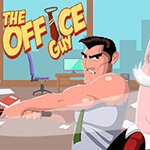 The Office Guy is here to fight against the corrupt corporate, and he needs your help to get rid of his enemies in this action-packed game. Working 9-5 is not easy, and your manager can make things even less enjoyable for you. Roll up your sleeves, and show those corrupt colleagues what work ethic means!
In this game, you take control of John, a hardworking employee of his company. After witnessing a terrible meeting, he decided to show his managers he won't let them get away with murder! Your objective in this game is to complete each level by collecting the target item. There are 10 different levels that you can finish, but you unlock them one by one. In each level, you'll encounter different enemies. These will attack and try to stop you. You can see your health bar at the top of your head. Running out of it will cause you to die, and you'll lose the game. Before your enemies have a chance to attack you, kill them with your weapon. Upon death, your foes might drop weapons. Press the down arrow key to collect it. Good luck and have fun!
More thrilling tasks are waiting for you in our collection of free and online action games. Browse now!
Release Date
February 2018
Features
Colorful 2D graphics
Intuitive controls
10 different levels to complete
Different weapons to collect and use
Entertaining and online gameplay
Controls
Use the left and the right arrow keys to move. Press the down arrow key to pick up objects from the ground. Use the SPACE BAR to attack.