Play Now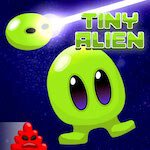 In Tiny Alien, the evil empire stole the sacred gems and started a turmoil in the galaxy! You may be small, but you're the biggest hope of the galaxy. Can you bring back the gems and loosen the grasp of the empire over the galaxy?
Space is an infinite void, but you should do whatever you can to take the gems back from the empire. Your objective in this game is to complete each stage by reaching the glowing gate at the end. On your way, you'll encounter many obstacles that the empire send to stop you. You can play the game with your mouse or the arrow keys. Click on the play button on the main menu to start. Your character constantly jumps, and you should time your moves carefully to land on different platforms and avoid enemy fire. The latest technology is always at your side, as you have a tiny companion with you which fires at enemies. These enemies drop coins when they die. Collect as many of them as you can. You can spend these to buy upgrades, and even unlock different characters. Good luck!
From aliens to armed enemies, get ready to face many different opponents and dangerous scenarios in our collection of free action games. Enjoy!
Developer
A Small Game developed Tiny Alien
Release Date
2019
Features
Colorful 2D graphics
Cute character, Tiny Alien
Challenging gameplay
Different upgrades and unlocks
4 different character choices, each with different stats
Controls
Use your mouse or the arrow keys to move the Tiny Alien around the map.