Play Now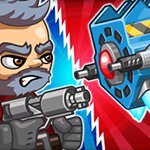 In Total Recoil, it's time to defeat your enemies and give them a taste of their own medicine! The robots have invaded our world and it's payback time! A couple of our most brave heroes have sneaked into RoboCorp's factory to stop the invasion and bring peace to our world! But what our heroes need is a leader! Do you think you can lead our courageous heroes to save the world?
It has begun! The robots have declared war on humanity! It's time to strike back. Are you up for the challenge? Your objective is to enter the evil factory and put an end to robots once and for all. You can shoot left by clicking the left mouse button or left arrow key and you can shoot right by clicking the right mouse button or right arrow key. Get ready to perform jaw-dropping stunts that will remind you of the Matrix movies as you fight the robots! There are 30 levels to complete. You'll face more challenges as the game progresses. Robots that can jump and shoot, rockets, and various traps await you inside the factory. Don't forget to collect the stars and gold that drop when you kill robots. You can buy new characters with gold and perform new stunts! Try to be quick and pay attention to every detail to not get killed by robots! Go on then! The world needs your help!
If you like playing games like Total Recoil then be sure to check our collection of online and free action games by clicking here and enjoy yourself!
Developer
Developed by Demonte Maximiliano.
Release Date
April, 2018.
Features
Many characters to buy
30 levels to play
Intuitive controls
Exciting gameplay
Controls
Left-click or left arrow key to shoot left, right-click or right arrow key to shoot right.