Play Now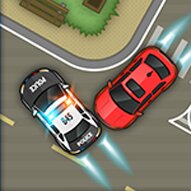 Be the controlling power of the traffic in Traffic Control! This game gives you the opportunity to be the all-mighty power behind all the traffic. So, use this power well enough to make everything go in order. Are you ready to take this responsibility?
Now, you can alter the pace of any car you wish and you need to. All you want is safe traffic and for this aim, you will do whatever you can. In a series of levels which you will unlock if you are successful enough, you will have to deal with each of the cars in traffic. In complex and tangles crossroads, you are needed to avoid traffic accidents. One car moving too fast may cause a huge chain accident. So, you should have an all-knowing view and try to keep an eye on all the roads. When a car is approached by another, you can boost the speed of the car that you need to change its pace. This way, you will solve the gridlock and let everything go smoothly at the crossroads. Now, get your traffic policeman attitude on and control everything going on in this city!
If you enjoyed controlling the way things are going, you should check out Paw Patrol Air Controller to control the traffic in the air this time!
Developer
Inlogic Software developed Traffic Control.
Release Date
October 25, 2021
Features
2D colorful graphics
Multiple levels to unlock
Intuitive controls
Addictive gameplay
Controls
You can use the mouse to click on the cars and boost their speed. Control the traffic and avoid accidents. This city is thankful to you for your services in creating safe traffic. Play Traffic Control free at Yepi.com!