Play Now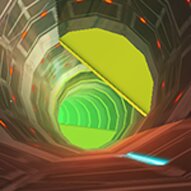 Speed up and go as far as you can through the portal in Tunnel Runner! Here, in this different dimension, you have a special task. You should find your way through the obstacles and curves. Maybe there's a way out, maybe there isn't. You can only learn this if you manage to dive into the portal and go as far as you can. Can you end this challenging road and see what awaits you in the end?
In this space-like dimension, you can see clouds of stardust and rusted portals to drive through. With many obstacles to dodge, you are not so safe here, though. You should always be on the run when you are moving further and father. Use your arrow keys or click on the arrow signs on the left and right sides of the screen to rapidly rotate to where you are heading for. This way, you can dodge the obstacles and go on to see the following levels. When you see a sparkling light on your way, don't forget to get it. That will bring you a shield. With those shield powerups, you are safe for one time if you hit an obstacle by mistake. Let's try to run as far as you can and see many different levels in this portal!
If you enjoy challenging yourself in this game, you should also play Tom Runner! Enjoy!
Developer
SoftGames Azerion developed River Adventure.
Release Date
November 2021
Features
3D radiant graphics
Challenges to overcome
Intuitive controls
Many different levels
Controls
You can use the keyboard keys or the left and right arrow buttons on the screen.