Play Now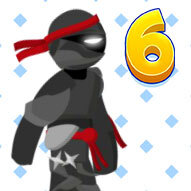 Vex 6 is here and the amazing stick man character returns for another fast-paced and dangerous adventure. Get ready to jump, roll, and evade death for the sixth time in this fan-favorite series! Are you up for the challenge?
Spikes, sawblades, and deadly traps are just a few of the common sights you can see in the world of Vex! Your objective in this game is simple! All you have to do is to complete different levels by completing various tasks in them. These levels are called acts, and as you progress through the game, they get much more difficult. Expect sharp obstacles and watch out for the pointy ends! Miscalculated a move and died? No worries! Be sure to activate red flags throughout the game, and turn them green. These act as checkpoints, and you can start from here if you slip up and meet the ultimate end early. Don't forget to collect those shiny coins and stars! You can spend these at the in-game shop to unlock dozens of different skins to customize your character. Completing acts rewards you with trophies, so do your best to collect them all! Enjoy!
Fan of the series? Be sure to check the previous title in the series, Vex 5! Have fun playing!
Developer
Agame developed Vex 6.
Release Date
October 13, 2021
Features
Daily tasks to complete
Dozens of different skins to unlock
Various trophies to earn
Daily bonus stage!
Colorful 2D graphics
Fast-paced and challenging gameplay
Dozens of levels to complete
Controls
Use your WASD or arrow keys to control your character. Use the buttons on the screen to control your character on mobile devices.