Play Now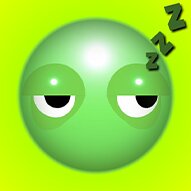 Wake Up Buddy is about humanity's struggle to wake up every morning. It is about accepting the most dangerous urge we all carry within ourselves, and learning ways to fight it effectively. It is that one thing we are the worst at adapting, even though we start practicing at very early ages. You're safe today, at least for now, but there will be some suffering, because we'll be waking up someone else.
All measures needed will be taken for this fight. First, you will ring the alarm, only to be disappointed by this alien-like person ignoring you. Then, you will start throwing stuff and get paid for it because it is the job society needs. Pick up a baseball and aim wherever you want! There is a bar above your victim, and your goal is to fill it with successfully aimed attacks. They will make sounds, complain, get rude, fall from the bed, and still be sleeping. Don't give up, don't give them the pleasure of five more minutes. Be quick and keep it painless. Get paid and upgrade your weapons and attacks. You can also buy furniture for their room, basically becoming their parent. Once you get the satisfaction of disturbing people's sleep, nothing will ever be the same.
If you'd like to try more skill-requiring funny games like this, you can check out Shaun the Sheep Chick N Spoon and learn the hardships of catching eggs while running.
Developer
Nevar Games developed Wake Up Buddy.
Release Date
November 11, 2021
Features
Colorful 3D graphics
Easy to play
Funny character design
New weapon options to unlock
Controls
You can use your mouse to hold, aim and shoot.