Play Now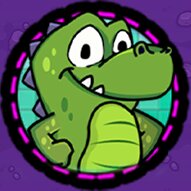 Find water for an adorable crocodile with Where is the Water! This deadly baby is always thirsty for some water, but unfortunately, the circumstances do not bring these two together. This is where you come in! Use objects, dig tunnels, and press buttons. Collect all three stars on every level and make sure our deadly cutie gets enough water!
Crocodiles need water to keep their scales shiny and moist, however, this little one is exceptional in terms of its endless need for hydration. You can be of help by solving more than twenty puzzles and destroying the barriers between the water and this baby. You can see the resource, crocodile, and three stars before you. What you can control here is the way the tunnel is dug and the time the water is released. Carve a path from the resource to the tiny predator and make sure the stars are on the way! You don't have to bring every drop, but obviously, a few drops won't be enough. Don't be shy, make new guesses, and try again! Try your chance with a new mechanism at every new level, get beaten by all kinds of obstacles, and use all you got to keep the scary little hydrated!
If you like cute mind gymnastics, you can check out Yarn Untangled and undo the mistakes of adorable paw friends!
Developer
kiz10.com developed Where is the Water.
Release Date
April 21, 2022
Features
Colorful 2D graphics
Cure cartoon design
Easy to play
Improving logic skills
Available on mobile devices
Controls
You can use your mouse to play.