Play Now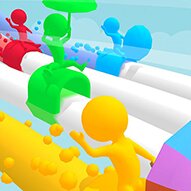 Face the wind and go against it in Windy Slider! Imagine the best waterpark in the world and add ten times of fun to that. That is what you get in this game with this unbelievably extreme parkour. Are you ready to let it all go in this game with your umbrella?
Catch the wind and add speed to your speed! You will begin this parkour in the start line with your rivals. Each participant has their own lane. You will see that you are standing on a platform that ties you to your lane. When you begin, you can simply tap and hold left-click to boost the character. When you release the left-click, your character will jump and float in the air. You can again hold the left-click to boost the character in the air. Plus, you can try to get a boost from the roller coaster-like parts of the parkour. Also, try well to get over the objects like the boxes that may slow you down. The 3D graphics are here to let you have a unique and thrilling game experience while you're trying to win the race. Overall it will be quite a ride, so get ready to feel the wind on your face!
If you like to dive into adventurous action games like in Windy Slider, you should take a look at our collection of fun action games here.
Developer
Game Worthy Studios Inc. developed Strike Half.
Release Date
October 28, 2021
Features
3D colorful graphics
Intuitive skills
Addictive game experience
Multiple levels to complete
Controls
You can tap and hold the left-click to move the character.