Play Now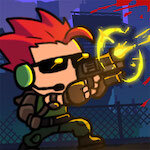 In Zombie Gunpocalypse, the undead is attacking the city, and only you can stop them. Looking for innocent citizens, these zombies are dangerous. It's time to grab your weapons and show these walking dead that they've picked the wrong city to assault. Can you defeat all the zombies and complete every level of this game?
We don't know if zombies can understand what is right or wrong, but you can't allow them to harm innocents! Talking them out of their messy and dangerous habits is not an option, so you better take your guns out, and save the day as the hero. Your objective in this game is to complete each level by killing every zombie in them without running out of ammo.To play the game, you can use your mouse. When you start the level, your character will get into their position. All you have to do is to aim at the zombies and shoot them. The game features various types of enemies, each with different amounts of health. You can kill some with regular bullets, but others will require a more powerful shot. As you level up, you'll unlock different weapons. You can damage more than one enemy with a shotgun, and the rocket launcher is ideal for getting rid of a group of enemies. If your enemies are hiding behind an obstacle, the grenade is the most effective solution for that problem. Good luck hero!
Join the adventurous duo and help them overcome different challenges in our other popular game, Zombie Mission 4. Have fun!
Developer
kiz10 developed Zombie Gunpocalypse.
Release Date
January 16, 2019
Features
30 challenging levels
Colorful 2D graphics
Addictive and entertaining gameplay
4 different weapons to use
Controls
Use your mouse to play this game.