Play Now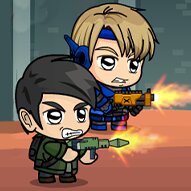 Get ready for the new adventures our friends bring back with Zombie Mission 10! It does not matter if you are playing alone or with a friend, you are doing it for the sake of humanity. Dream big, get bigger guns, fight harder, and be the hero everyone needs to bring an end to the zombie apocalypse!
Your chance to prove your survival skills has come! Alone or not, you know you got what it takes. So get the starter gun (you will need to upgrade that later) and join our heroes in a prison break which strangely ends with zombie attacks. You cannot trust anyone as the police are also zombies. All there is left to do is collect gems and coins, buy and upgrade your guns, and provide your own justice. Don't forget to upgrade your maximum health too! Having higher health points will help you last longer against these brain-eaters and frogs with hats. After 8 levels, you can unlock new skins. Although it is recommended to start from normal, there are 3 different difficulty options available. You have 7 powerful bosses waiting for you. Collect all you can, upgrade your strength, and save hostages. Keep being the awesome hero we need!
If you like this game, you can play more action games by clicking here.
Developer
RHM Interactive developed Zombie Mission 10.
Release Date
December 01, 2021
Features
Colorful and fun 2D graphics
Cute character design
30 levels with 7 bosses
1P and 2P options
3 different difficulties to choose from
Controls
P1 can use "W, A, S, D" to move, "F" to shoot, "G" to bomb, and "Q, E" to switch weapons.
P2 can use arrow keys to move, "L" to shoot, "K" to bomb, and "O, P" to switch weapons.