Play Now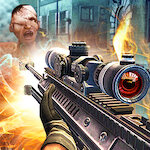 In Zombie Sniper, the undead have risen from their graves and terrorizing the city. Residents fled, and the streets are empty. In this post-apocalyptic world, only you can stop the march of the zombies and bring peace back to the once-bustling city. Grab your weapons and aim well soldier!
Zombies might lack the intelligence of living humans, but they're still extremely dangerous. Negotiating with the undead is not an option, so let your weapons do the talk. Your objective in this game is to hunt each zombie one by one with your sniper rifle. When you start the game, the streets will be quiet and even peaceful. But after a few seconds, you'll see the undead come out from the ruined buildings. Use the WASD keys to move around and explore the map. If you need to get to higher ground, you can use the SPACE BAR key to jump. Use your left mouse button to shoot and use the right mouse button to zoom in and out on your target. A single bullet might not be enough to defeat these enemies. When they fall down, keep an eye on them. Headshots kill them instantly, so aim for their heads. This will also give you extra points. More zombies will appear. How long do you think you can survive?
Check our collection of online action games for more fun! have fun with our free games!
Features
3D graphics
Lots of zombies to kill
Basic controls
Exciting gameplay
Controls
Use the WASD keys to move around. Use the right mouse button to zoom. Use the left mouse button to shoot. Press space bar to jump.