Play Now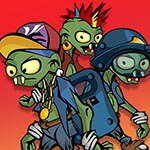 In Zombies Can't Jump 2, the trilling big fight against the undead continues with new features and adventures in this fun action game! As you know, our world is under the invasion of walking zombies. Luckily, they don't know how to jump! You should take this into your advantage and kill them before it is too late. Take your loyal fellow with you and start this battle now!
Humanity is in big danger because of the zombie invasion. But you and your best friend decided to take action against such a threat. In this fun undead adventure, your objective is to repel your enemy waves with your weapons and built defense grounds to stay high enough to prevent the enemies attack you. You need to pass all 60 levels to finish the game but don't worry! We heard you are the best fighter of the survivors! Each kill will earn you coins in the game, and you can use your earnings to buy new weapons and other items. Use your equipment during the game whenever it is necessary. You can check the medals you earn and the player stats you upgrade from the main menu. Also, click on the bestiary button to select your enemies! Good fight, play tight, don't let the dead bite!
Be sure to check our collection of free and online action games by clicking here to step into new adventures to save the world!
Developer
Okijin Games developed this game.
Release Date
2016
Features
2D colorful graphics
60 fights to win
Various weapons and items to buy from the in-game shop
Many medals to gain
Controls
You can use your mouse to play this game.