Play Now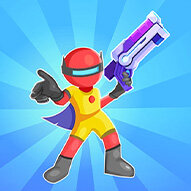 There is a whole other world called Ace Brawl Battle 3D where you have to keep fighting other players to survive, and you are more than welcome to join. Ten different heroes, all with their unique attacks and damage types are waiting for you.
With two more modes to come, this game's basic mode offers you a deathmatch called Transform To Play and puts you in an arena with five other people. Everyone can damage everyone, and the main goal is to be the only survivor. Every few seconds, all players get special attacks that can deal more damage than a basic attack. The whole arena is your playground, and you get to decide how to play. You can hide in the bushes and wait for a sneaky last hit, or get the capsules on the arena to turn into a huge boss with a full hp bar to get some time. Victories, logging in daily, and completing quests can earn you gold and gems with which you can upgrade your heroes or unlock new ones. You can check and upgrade your heroes at the bag tab and unlock new skills for them. Don't forget to check your tasks and collect your rewards!
If you like destroying your opponents with deadly weapons, you can check out BattleDudes.io to play in the blue or red teams and fight people from all around the world!
Developer
YAD.Com developed Ace Brawl Battle 3D.
Release Date
November 22, 2021
Features
Colorful 3D graphics
10 unlockable and upgradable characters
Rewarding quest system
Quick and fun matches
Available on mobile devices
Controls
You can use "A, S, D, W" to move and your mouse to shoot.