Play Now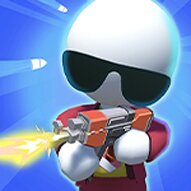 Live the life of a secret agent in Agent J! You are one of the top-secret agents in the world. Now you have a vital job to finish. Get your guns ready, protect yourself and eliminate the enemies. Protect everyone from these hostile people and survive this mission. Are you ready to successfully complete this impossible mission?
In this game, you are leading a worldwide famous secret agent, and you must be bullet-proof. You will have different destinations around the world, and you must eliminate your enemies one by one at each destination. While you are fighting against hostile enemies, be sure to protect yourself. You can get behind some objects in the rooms and try to attack your enemies while they're not shooting at you. Don't forget that you have a limited amount of power that can drain if you get badly injured. Collect money to upgrade your armor, character suits, and abilities. You can also spin the lucky wheel and try your chance to get extra gifts. Be sure to sign into the game daily if you wish to get daily rewards, too! Now get your guns ready, find your best position and attack your enemies one by one to make the world a safer place!
If you enjoyed playing Agent J, then be sure to check out Agent Gun by clicking here.
Developer
YAD.Com developed Agent J.
Release Date
October 04, 2021
Features
2D colorful graphics
Multiple levels
Intuitive controls
Guns to unlock
Daily rewards to collect
Controls
You can use the mouse of your computer to choose the options.