Play Now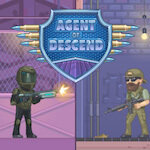 In Agent of Descend, take control of the talented secret agent Doe, and grab your weapons to stop the bad guys through multiple levels. Featuring turn-based gameplay, your decisions play a big role in whether you'll live or die in this action-packed game. Can you prove you're the most talented agent by defeating all your enemies?
Bad guys are operating from a building in the city, and it's time to infiltrate their base of operations. You'll find yourself at the roof of this building just like in the movies, so be prepared for action! You can play the game with your mouse. There are 60 floors in the building and these act as levels. Starting from the top floor, your objective is to descent to the first level by killing your enemies and staying alive. Being a secret agent has its perks, and you have many different weapons and items at your disposal. When it's your turn, click on the attack button in the bottom left corner of the screen, and crouch by using the button next to it, if necessary. When you clear a floor, you can visit the next one by using the arrow buttons located at the bottom of the screen. Collect items and coins, and don't forget to upgrade your skills and buy new weapons! Good luck and have fun!
Keep that adrenaline pumping! Check our other popular and action-packed game, Shooter Rush next, and defeat all your enemies! Enjoy!
Developer
Kizi developed Age of Descent.
Features
Colorful 2D graphics
60 different levels to complete
Intuitive controls
5 different skills to improve
Different weapons types to unlock and use
Entertaining gameplay
Controls
You can use your mouse to play this game.