Play Now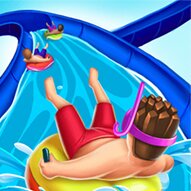 Become the legendary predator of your local aquapark with Aquapark Shark! Jump into your best swimming ring, speed toward the finish line, and destroy everything standing in your way! Turn the waters red wherever you pass, make other swimmers fall, and run from the real shark with your amazing ring-riding skills!
Welcome to the deadliest aquapark in the world; enter at your own risk! We use blood-thirsty sharks as decorations and place them at the most unlikely spots to double the entertainment! Ready your sunscreen and sunglasses, grab your most stylish ring, and start sliding! Steering is our guy's profession, so leave that to him and just focus on the speed of your teammate. Discover the impossible platforms of our playground while learning your limits. Keep your buddy alive by making sure he does not turn upside-down. Speeding up against slopes should be fine, but doing so on flat surfaces can end badly. You can try to do flips mid-air for some extra skill points, but watch out where you are landing. Remember to check the waters for blood stains occasionally, as they are the biggest sign of an incoming shark attack. Make it to the finish line, earn gold coins, and unlock new rings to wear!
If you like the cold-blooded predators of the ocean, you can check out Hungry Shark Arena and become the biggest fish in the water!
Developer
kiz10.com developed Aquapark Shark.
Release Date
July 14, 2022
Features
Colorful 2D graphics
Fun aquapark theme
Increasing balance control skills
Challenging levels
Unlockable skins
Available on mobile devices
Controls
You can use your mouse to play this game.