Play Now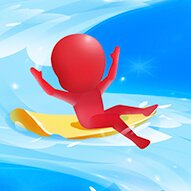 Join a horde of helmeted babies racing on an infinite water slide with Aquapark Surfer Race! Freshen yourself up on these hot days with a splash of competition! This never-ending juicy slide is your world now! So, let's take a glance around and dive into the race!
There is no finish line, so focusing on the road and incoming obstacles is the best tactic you can go by. Avoid hitting objects such as lifebuoys and door arches at all costs. Get speed boosts so you won't have to worry about these bumps on your road for a while. Don't get too comfy though; as soon as the boost effect is over, you will be vulnerable again. Slide right and left, watch other racers get hit by objects, and keep your spot on the top. Your only actual competitor is your highest score, so you should not mind the other babies at all and focus on how you are doing instead. Become a legend of this 3D aquapark by breaking all-time records. Earn gold for your victories and unlock new skins for your surfboard. Don't let failures bring you down; you can always watch a short ad and return to the track quickly to pick up where you left.
If you like huge-headed racing babies, you can check out Fall Race 3D and take this hilarious concept to another level!
Developer
YAD.Com developed Aquapark Surfer Race.
Release Date
March 21, 2022
Features
Vivid 3D graphics
Funny character design
Improving reflexes
Fun and addictive gameplay
Available on mobile devices
Controls
You can use your mouse to hold your character and move left and right.