Play Now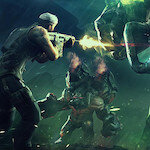 In Assault Fury, you better grab your weapons because your enemies are coming to destroy you! Featuring dozens of levels filled with vicious enemies, are you ready to face them and emerge with a victory?
The battle is about to begin, and it's you versus them! Being the best shooter in the world, no matter how many enemies you'll encounter, nothing can stop you. If you're ready to complete your missions, then start the game now. There are 8 different chapters, each with 5 challenging levels that you can complete. Start with the first mission, and you'll unlock the rest one by one. You start each level behind an obstacle, taking cover. Click on the screen to aim at your enemies, and use the left mouse button to fire! Sometimes your enemies will rain down bullets on you. You must take cover! Right click on the screen to get back behind the cover. You complete a level after killing every enemy in it. The fifth level of each chapter is a boss fight, and you must be ready for it. Bosses are more powerful than ordinary enemies. Use different weapons, and try not to get hit! Good luck, soldier!
Join the fight and destroy your opponents in our exciting and entertaining game, Stickman Maverick. Enjoy!
Developer
JulGames developed Assualt Fury.
Release Date
March 13, 2019
Features
Colorful 3D graphics
Different weapons to use
40 different levels to complete
Challenging boss fights
Intuitive controls
Entertaining gameplay
Controls
You can us eyour mouse to play this game.