Play Now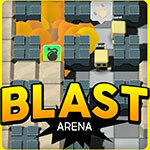 In Blast Arena, you gotta be the 1st ranking bomber no matter what it takes! Start your challenge with players all around the world by using only one click. Make strategic plans, bomb everywhere you step up, and set deadly traps for your opponents. The competition has never been this hotter. Grab all your bombs and get ready to enter the arena now!
Welcome to a big arena where all the players share the same utmost goal which is destroying everything on the way! Your opponents are real, and they are all ready to blast you by finding your weaknesses and use them against you. In this thrilling action game, your objective is to blast the white structures, clear the way till your opponents to bomb them at last! As you clear the arena you will find many boosters to help you out. You can walk faster, obtain new bombs, make your explosions bigger or even more with the boosters! The blue-grey blocks are obstacles that cannot be destroyed. Click on the play button and wait for other players to join. You should make good strategies to beat your opponents. For example, you can trap them towards the corners and put bombs on all the exits so that they will be eliminated among the explosions. Good luck!
If you want to try another blasting adventure with other players, you should definitely check StarBlast.io.
Features
2D colorful graphics
Playing with real competitors
Various boosters with different features
Chat room in the community
Controls
Use the arrows or WASD keys to move. Press on the SPACE BAR to put a bomb.