Play Now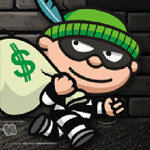 In Bob the Robber, join the heroic thief Bob in his first adventure. At first glance, he might look like a regular burglar, but Bob believes he has a noble cause. Help him through different levels as he tries to brings justice in his own unique way!
Grew up with stories of heroes helping innocents and hurt, Bob knew what he'll become at a young age. Targeting the new mayor and his partner in crime, our sneaky character is there to teach them a lesson. Your objective in the game is to complete each level by stealing valuables from different buildings. Start the game by clicking on the play button on the main menu. There are 5 different levels you can play, and you unlock them one by one. When in a building, move around with the WASD or the arrow keys. Your presence is not unexpected, so get ready for security measures. Avoid getting caught in security cameras and by guards. Collect pin codes to unlock locked doors, stay out of sight, and escape once you got what you came for. Walk with the shadows as you show the real bad guys that they're not welcome in your city! have fun!
The adventure continues in the second game of this amazing and popular series, Bob the Robber 2. Enjoy!
Developer
Bob the Robber is made by MeowBeast.
Release Date
2010
Features
5 different levels
Different enemy types
Challenging puzzles
Stealthy gameplay
Controls
WASD or arrow keys to play. Space bar to attack guard.