Play Now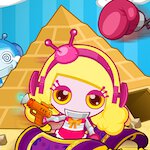 In Bomb It 4, the explosive fun is back for the fourth time! It's time to grab your explosives and show your opponents that you're a force to be reckoned with! Are you ready to leave your mark on the singed ground and become the player with the most points?
Cover your ears and watch your rivals get launched into the air! With 4 different game modes, there are so many fun ways to compete against your opponents! In the classic mode, you should try to kill all your enemies. In the battle royale mode, you must kill 10 enemies first to be the winner. Can't resist those shiny gold coins? Then the coin collector mode is just for you! In this one, you should be the first player to collect 10 coins to win! The last one is called the tile mode, and you should color 50 tiles to be victorious! You can use your bombs to clear the obstacles on your path and blow up your enemies. But watch out! Your rivals will also drop bombs to kill you, so be careful and keep your eyes open. Have fun and good luck!
Why not try the other title in this entertaining series Bomb It 6 next?
Developer
Bomb It 4 is developed by Spil Games.
Release Date
December 2011
Features
Addictive gameplay
Can customize your character
Variety of different characters to play
2D graphics
Controls
In one-player mode, use the arrow keys to move and the space bar key to place a bomb. In 2 players mode, use the WASD keys to move and the space bar key to place a bomb as the player 1. Use the arrow keys to move and the ENTER key to place a bomb as the player 2.