Play Now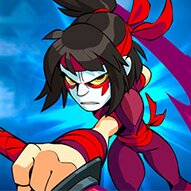 Brawlhalla Grand Slam is a new battle experience with all the Brawlhalla characters you love! Choose a build, a character, and a skin to complete your warrior, then jump into the battlefield! Claim your daily rewards to earn faster and unlock the most exclusive characters and show off your new skins in the arena!
Jump down on your enemies to deal them damage. The damage you hit and its effects change with the character type you use. Some characters deal twice damage while some steal hp or deal area damage around the enemies they hit. It's normal not to know which attack type is the best for you, but you will find the ideal character as you gain experience in the arena. Also, all these fights will earn you gold to unlock the characters and even skins of your liking! You can check the daily, weekly, or all-time leaderboards of your location or worldwide, and watch your placement change as you fight your way to the top. Try all character types, practice the ideal attack style for yourself, and perfect your battling skills. Keep your chosen name on the top!
If you like this online arena, you can check out Rayman's Incrediballs Dodge and try to be the last one standing in a forest full of deadly traps and enemy players!
Developer
Ubisoft developed Brawlhalla Grand Slam.
Release Date
February 14, 2022
Features
Easy controls
Played worldwide
Unlockable characters and skins
Global and territorial scoreboard
Controls
You can use your mouse to aim and shoot.