Play Now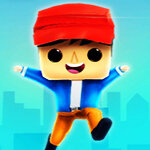 In Bus Surfers, get ready to be the trouble! Your grumpy and mean teacher is chasing you, and you should show that old lady that she can't catch you unless you want to. Dive into the busy streets of the city, and run as fast as you can.
Ditching the school has its consequences, but you're not thinking of dealing with that at the moment. The objective of this game is to run as far as you can by avoiding obstacles. Click on the play button on the main menu to start. Your character runs on their own, but you need to help them evade various obstacles. Use the left and the right arrow keys to make your character move to those directions. Collect coins along the way. You can spend these at the in-game shop and buy different upgrades that'll make your journey more fun and easy. If you hit an obstacle, your teacher will catch you, and it'll be game over. If that happens, you can continue from where you left off by using a first aid kit. You can also unlock 15 different characters with the coins you earn, so start running!
If you enjoyed this game, go ahead and try our other popular title, Tom Runner. Have fun!
Developer
New Gamer developed Bus Surfers.
Release Date
September 27, 2019
Features
Colorful 3D graphics
Fast-paced gameplay
Challenging obstacles to overcome
Intuitive controls
Different typs of upgrades you cna buy from the in-game shop
Controls
Use the left and the right arrow keys to control your character.